Based in Sheffield, we at Telemods, work mostly but by no means exclusively with Yamaha Pacifica telecasters (PAC 120, 311 etc) because they are very high quality instruments and good value for money. We modify them in any /all of the following ways: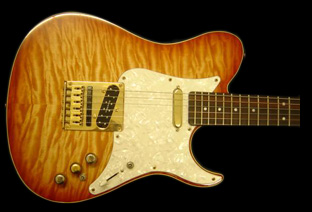 1 - We install a Roland GK-2A (or GK3 kit) pickup system for access to Roland guitar synths (VG88, GR20, GR55 etc.) See more about this installation here
2 - We change the standard Yamaha pickups for Seymour Duncans. We can do a coil-tapping mod if requested
3 - We remove the neck and screw self-locking threaded inserts into the neck heel giving much better sustain.
4 - We replace the original plastic nut with a compensated Earvana nut or a brass equivalent.
5 - We replace the Yamaha tuners with locking tuners (eg Sperzels).
6 - We replace the bridge saddle height adjustment screws with shorter ones for more comfortable 'palm damping'
7 - We also reshape the Yamaha head-stock to look like a Fender for no other reason than that of aesthetics.
8 - We give each guitar a full set-up making it feel / play / sound superb

Here's what we've been up to lately!